Bunny Love
  Yes, I know Easter Sunday is more of a religious holiday but I thought I would post some interesting lighthearted designs from that little rabbit that comes once a year in April. So please don't preach, but embrace these little critter designs.   let's start with the  
Magic Bunny Toothpick Holder
by Stefano Giovannoni from
Alessi
. You pull the ears up like a magician, and when you do, you'll find the bunny is holding toothpicks. What a lovely after dinner surprise.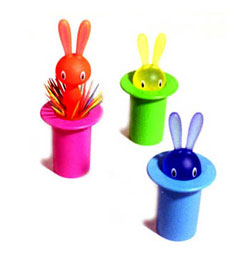 Also by Stefano Giovannoni-
Bunny & Carrot Kitchen Roll Holder
. The carrot holds the paper towel and the bunny is where you tear the sheet. Cleanups were never this much fun. Your choice of bunny colors.
    For the Wine lover, there is the
Metrokane Bunny Corkscrew
. Pulling the corks out of bottle of wine could never be simpler in just 4 seconds flat the job is done. Enjoy your bottle of wine faster. There is also a Rabbit corkscrew available.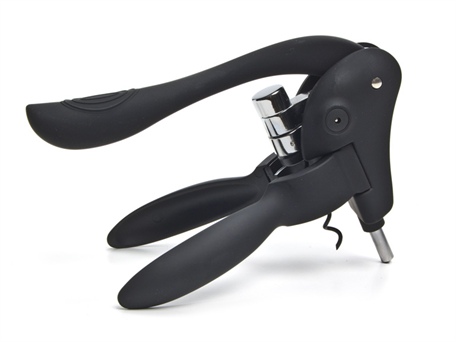 For the foodie and salad lover there is the 
Rabbit ears salad servers
 from the
Neatoshop. 
Comes in white with pink inner ear color. Grass plate also available.  Oops, there is a bunny in your salad.
    If you're more business oriented but with a bit of whimsy, then these cute bunny paper clips will hold your important papers, but hurry don't let the tortoise beat you to the finish line.
    For the tech-gadget geek why not dress your iPhone in bunny chic wear with this buuny style silicone case. The fluffy tail on the backside of the phone adds the right amount of whimsy.
        If what you're looking for is more adult-oriented then The Rabbit Vibrator is for you. Rabbit ears stimulate clitoris.  This gadget took off in sales after it was mentioned in the show Sex and the city.
Whatever you decide, rabbits and bunnies are everywhere this holiday season, so this April, be safe and have a Happy Easter!